SoulCollage® Community Update

July 2014
"CHILDREN FALL IN LOVE WITH THEIR INNER WORLDS"
SUMMER FUN, EFFORTLESS LEARNING WITH ME-CARDS FOR KIDS™
by Nancy Weiss, SoulCollage® Facilitator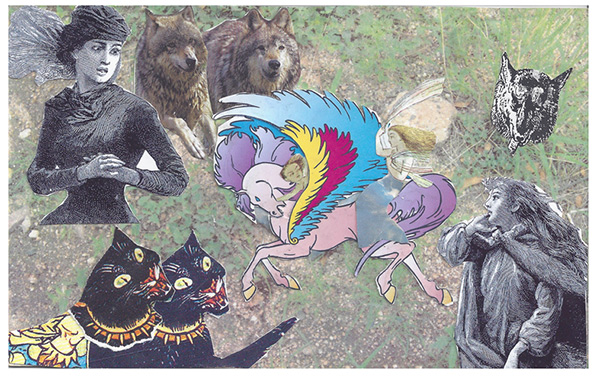 I am Pierre the fairy riding on a Pegasus with my sister Marlie.
I wonder why the women are chasing us.
I see wolves and other beasts emerging from the undergrowth to stop the women.
I am worried that they will catch us and lock us in jars.
I understand that the women want us, but we are not supposed to be kept in jars.
I say to the women, "It's impossible to catch us, because we are free!"
Mila, 5th grade
"Like the struggles that the heroes face in classic fairy tales and myths, children recreate the "hero's journey" through the words and images that they use in their MeCards. They dream big…giving voice to feelings, imagined adventures, and victories: "I am brave!" "I try to make bad things good!" "Things turn out okay!"
If you are a parent, grandparent, or teacher, or if you guide children in other ways, you may love how the MeCards4Kids™ adaptation of SoulCollage® offers a fun, profound connection between children and those they care about. Making MeCards is a wonderful summertime activity. Not only is it fun, it engages the whole child (not to mention the adult) by enhancing artistic skills, literacy skills, self-reflection and empathy building.

For the past four years, I have been thrilled by the depth and richness of themes in the cards and stories created by children in Jane Raphael's multi-age classroom, as expressions of their internal worlds. Their feelings, hopes, and dreams run the gamut from fears and bogey-men, sadness and death, to love of family and animals, concern for nature, and adventures in outer space. In Shay's words, "You can express whatever you want in a MeCard!"

MeCards4Kids™ is an adaptation of SoulCollage® for children that I developed with Jane. This process brings the wisdom of SoulCollage® to the developmental and uniquely personal needs of children. After creating a collage, children write or dictate an "I Am" poem, helped by prompts like "I am…, I wonder…, I feel…." to stimulate their creative potential, imagination, and self-expression. Children delight in seeing themselves and being seen by their teachers, friends and families.
Children's love for this process inspired the book,
How to Make MeCards4Kids™.
"The most wonderful thing about MeCards is that they are all about yourself. You get to see what your imagination looks like!"
(Charlie, 2nd grade)
| | |
| --- | --- |
| Sadie's grandmother describes her as "completely present with all the enthusiasm in her little body!" On her sixth birthday, Sadie made seven MeCards-almost simultaneously! Her enthusiasm was palpable. In this excerpted version of her first I Am poem, her cat reflects her mystical understanding of the speech of stars and her delight in sweets. | |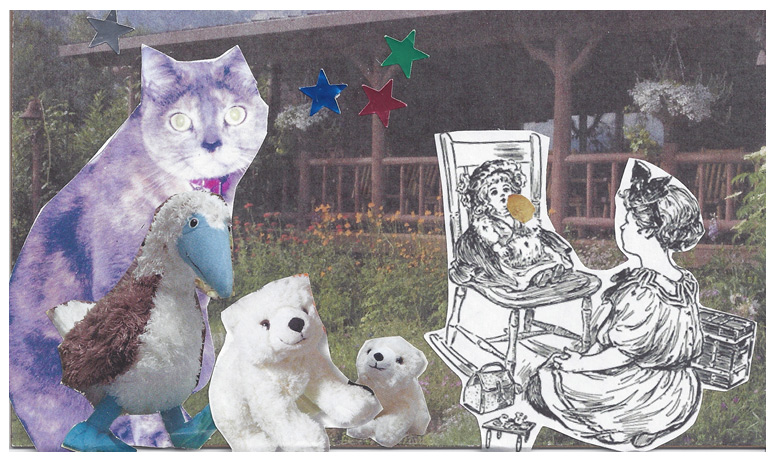 I am the cat.
I wonder how the baby is eating that potato.
I see the stuffed animals and the baby and the mommy and the stars.
I hear the stars twinkling.
I cry because I'm hungry for candy, and I don't care if it's healthy!
I understand the stars and what they are saying.
I dream about living in Candy Land!
Children often speak through the persona of an animal. Karis's pelican is wonderfully resourceful: she is a provider, a mother and a doctor/healer. Imagine the sense of her own agency and potential that this 2nd grade girl already feels!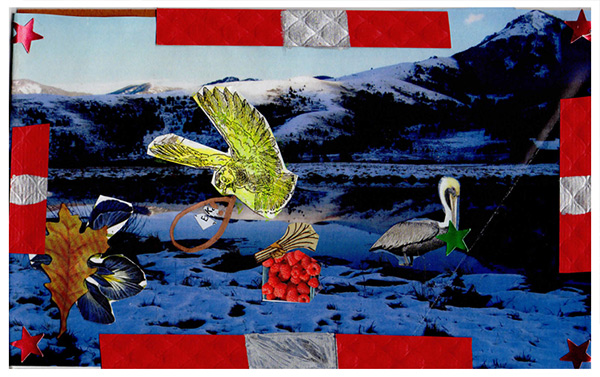 I am a pelican.
I wonder if the hawk will buy the food I sell.
I want it to be night, because at night I'm going to have my babies!
I am a mother.
I cry because my babies are sick. They've been born!
I am a doctor!
I understand that I will have to cure them.
I say, "You are better now!"
I am happy!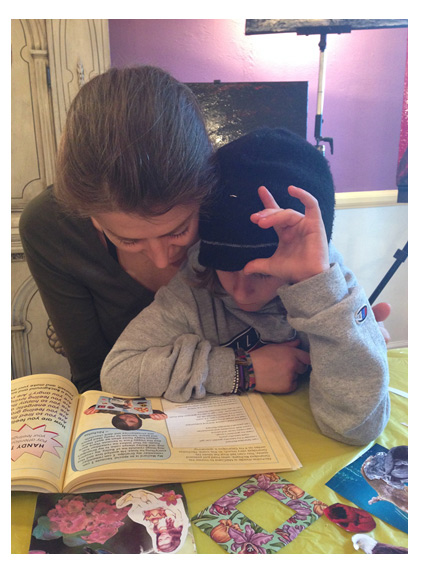 Here are some ways you can help your children get started:
1. Read How to Make MeCards4Kids™ with the children in your life, and become familiar with the instructional steps for making a MeCard. These steps include collage-making, a template for the I Am poem, and directions for writing the poem. In addition, there are many sample MeCards in this book.
2. Children love to organize! Set a special time to look through magazines, photos and other images and sort them into categories. This will encourage children to identify the kinds of images that call out to them.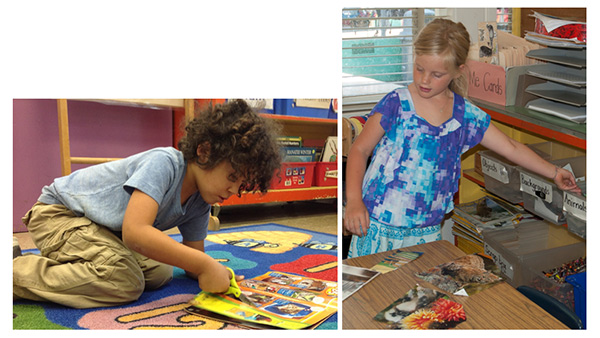 3. Invite a group of your children's friends and their parents to a MeCards party. Be sure to include many images of animals!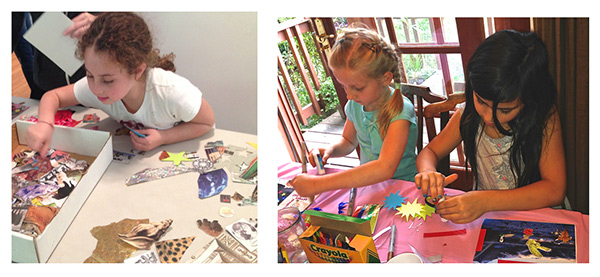 4. Have a Family MeCard session with the images you have sorted. Everyone can make a collage and create an I Am poem, or everyone in the family can write a sentence, a stanza or a poem for the same MeCard. The group sharing will be fun, bonding and meaningful.
5. After completing a collage, write a poem from the perspective of each character.
For example, imagine that you are writing from the perspective of the girl. How might she represent herself in her I am poem? And of course the cow, the cowboy and the old man will each say something entirely different.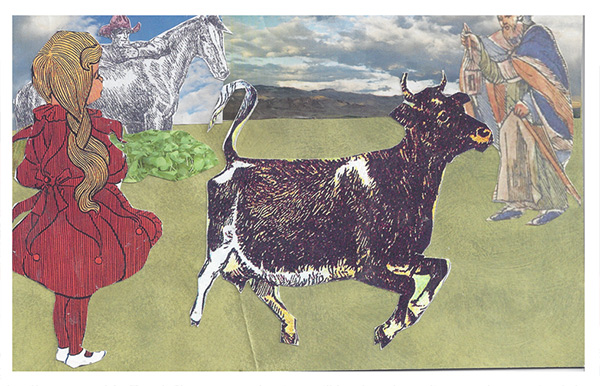 As you see, there are many ways to play with MeCards4Kids™! If you choose to share this process with the children in your lives, you can post your MeCards and any questions or feedback on the MeCards4Kids™ Facebook Group page. Please also visit the website: www.mecards4kids.com.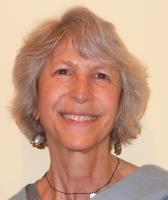 Nancy Weiss, LCSW
, is a psychotherapist and spiritual director in Los Angeles. She uses SoulCollage® regularly with her clients, blending depth psychology, dream work, and expressive arts.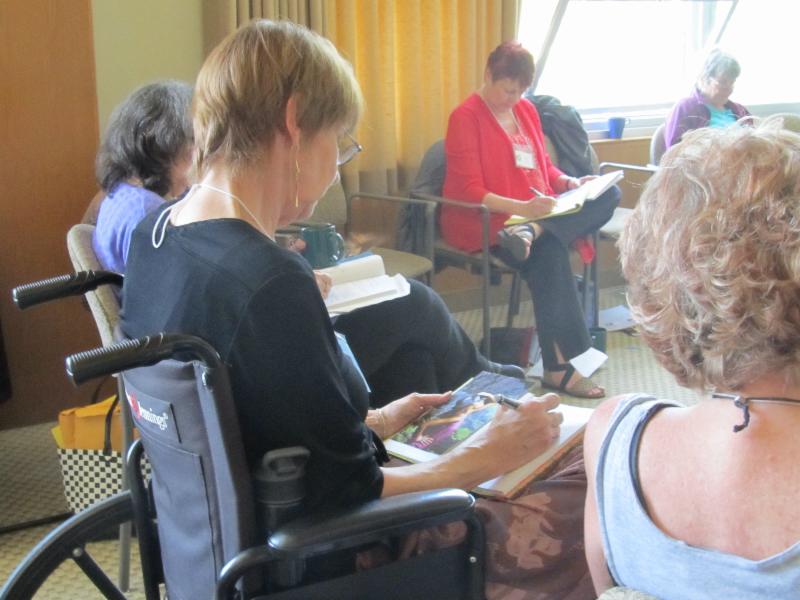 If you want to find out how to tap into your imagination and intuition and learn how to make and use your own SoulCollage® deck, we recommend you attend an Introduction to SoulCollage® Workshop – now also available online!
If you can't find a SoulCollage® workshop in your hometown, you can join this online workshop and learn about SoulCollage® from the comfort of your own home. We have a two-session online class, Introduction to SoulCollage® coming up on July 10 and 24, 2014.
In this class you'll:
Learn everything you need to know to begin making cards
Take time to make cards in the first session with the support of the group
Share your cards and what you see in them
Discover ways you can use SoulCollage® for your transformation and self-understanding and to make decisions
Learn about the structure of the SoulCollage® deck, as well as the Principles of SoulCollage®

Have plenty of time to ask any questions 
Here are the details of our next online class: INTRODUCTION TO SOULCOLLAGE®
Facilitator: Kat Kirby, SoulCollage® Trainer, Registered Art Therapist
Dates: July 10, & July 24, 2014
Day/Time: 3 hours, first session; 2 hours, second session.
(Tuesday, July 10 3:30-6:30 pm PT; Tuesday July 24 4:30-6:30 pm PT)
Cost: $ 49 (+$10 for 5 CEUs) / 2-Part Course
CEUs: 5 See more…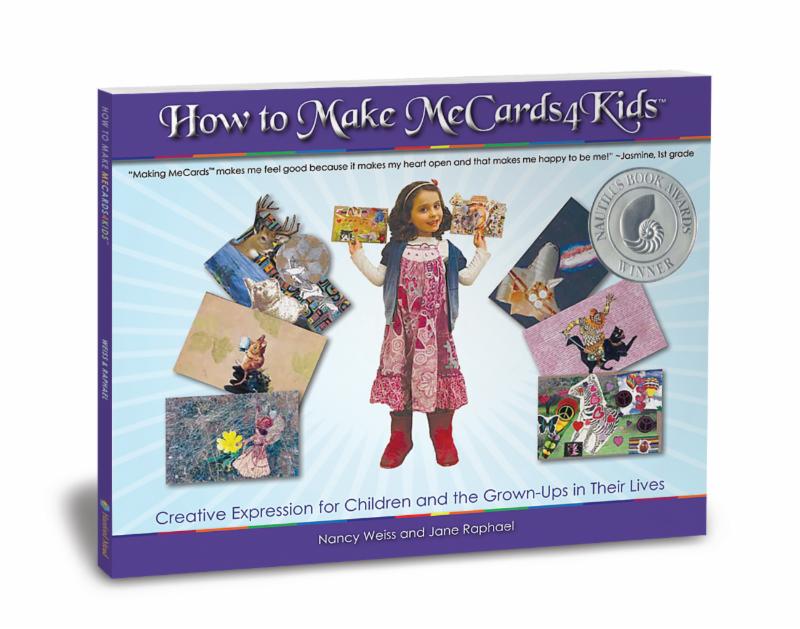 This book won the 2014 Nautilus Silver Book Award Medal in the Parenting/Family category
. In it the kids (aged 4-10) who love making MeCards teach you how. They show you their cards and "I AM" poems, and they tell you what matters to them. You'll learn that it is okay to make cards in your own special way. Teachers, parents, and friends you'll find guidance in here too. Seena B. Frost, founder of SoulCollage® and author of
SoulCollage® Evolving
says:
" Wonderful to hear about this adaptation of SoulCollage® for kids! The pictures of the cards they are making and the poems they are writing, all fill me with joy. My granddaughter loved making cards when she was younger. I'm especially glad this book will help children write poems from the perspective of the images. It's such a great exercise for developing imagination and intuition early in life."
Get 12-packs of professionally pre-cut cards and big rectangular archival glue sticks to let children get right into making their MeCards4Kids™