Nancy Weiss is available to guide MeCards4Kids® sessions in classrooms. Literacy skills are strengthened in children, as create visual and written stories. They get to imagine into their visual imagery, which is key, and then they translate their imagination into written language. Through their images and poems, children use this time of self-expression to develop and give voice to emerging aspects of themselves.
Nancy is also available to consult with teachers, therapists, SoulCollage® facilitators, and anyone else who works with children to guide them in using MeCards4Kids®.
Contact Nancy to facilitate MeCards4Kids® sessions, parties and playgroups for children's groups, families and individuals.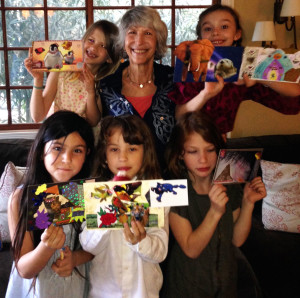 Children love sharing their MeCards!